ご入居中のみなさま
よくあるご質問FAQ
English
What are the move-out procedures?
Give a Move Out Notice
Lessees shall give us a move out notice at least one month in advance. A move out date shall be specified when notifying the move out. Please read below for more details.

1. One month prior notice is needed for lessees with residential purposes such as living in apartments or condominiums.
2. Four months prior notice is needed for lessees with business purposes such as running warehouses, stores, and factories.

The notice period may vary according to each lease contract — Some lease contracts ask lessees to give us a notice of move out for more than a month before the move out.

***In some lease contracts, the earliest termination date may fall at the end of the following month regardless of the notice period. Thus, please carefully read your lease contract for the detail. ***

a. Lessees with residential purposes
i. Lessees may give us a move out notice online (in Japanese)

The "Contract Number/ 契約番号" is printed on the top right of the lease contract.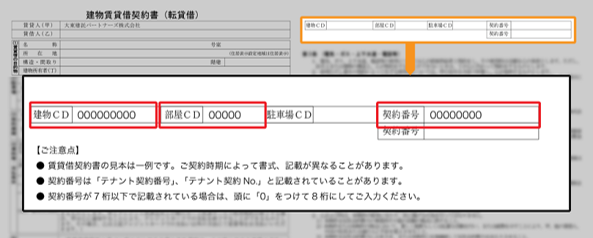 *Corporate tenants shall give us a move out notice online. Please visit the link above to give us the move out notice online. For those who are corporate tenants and do not have the lease contract at hand, please contact your employers first.

ii. Contact Daito Kentaku Customer Support Center via the phone or the app.

b. Lessees with business purposes
Lessees shall give us a move out notice by submitting a documented form (Move Out Notification Form/ Businesses.) Please first contact E-heya Support Center (in Japanese) to start a move out procedure.
※Move Out Notification Form/ Businesses

Interested in hiring a moving company?
Our business alliances are happy to offer you special deals! Click here for details (in Japanese.)

We have a move out procedure instruction in English. Hope it helps!


Cancel Services and Amenities
1. Decided to move out? - Please give us a move out notice. Read "Giving a Move Out Notice" for more details.
2. Already gave us a move out notice? - Please do not forget to go through the following steps before you move out.

***Lessees/ tenants are responsible for cancellations of services and amenities. Neither customer support center nor a local management office will arrange any cancellations besides the termination of the lease contract. ***

a. Utilities (Electricity, gas, and water)
Lessees/ tenants are responsible for cancelling all the utility services. For additional information, please read "Others."

b. Fire Insurance
Lessees/ tenants are responsible for cancelling fire insurance contracts. Insurance policies or renewed fire insurance contracts help you to find out which fire insurance company you have joined.

i. 三井住友海上火災保険/ Mitsui Sumitomo Insurance
Those who have joined Mitsui Sumitomo Insurance introduced by Daito Kentaku's group company may cancel the insurance contract by post or on the phone. An application form to cancel the insurance contract will be sent in three weeks after giving us a move out notice.
[For those with the insurance policy]
Contact: Mitsui Sumitomo Insurance Customer Desk
Phone Number: 0120-632-277 (Free Call)
Business Hours: 9:00-20:00 weekdays and 9:00-17:00 weekends and holidays.
[For those without the insurance policy]
Contact: Daito Kentaku Leasing Insurance Center
Phone Number: 0120-003-823
Business Hours: 9:30-17:30 on weekdays (except summer and winter break)

ii. 少額短期保険ハウスガード/ House Guard Fire Insurance
Contact: House Guard Customer Center
Phone Number: 0120-365-289
Business hours: 9:00-17:00 on weekdays (except New Year's Holiday)
*Please complete the move out process for the lease contract before cancelling the insurance contract.

iii. Not listed above
Please contact a real estate agency or an insurance company for further information.


Cancel the Internet Service
Lessees/ tenants must cancel the internet services (if any.) Further, the internet related equipment must be removed before you move out.

In some cases, an internet company asks you to attend a removal work with them. We suggest that you would contact the internet company as you decide to move out; it is often difficult to set up a removal appointment at your earliest convenience.

*Please kindly note that we don't attend the removal work on behalf of you in any circumstance.
*We may request you to extend your termination date of the lease contract; when you're not able to have the removal work by the end of the lease contract.


Others
1. Make changes in personal information (Notify your city or ward of the move-out date, make a change in your driver's license information, re-registration of seal certificate and so on)
2. Apply for the mail forwarding service
3. Make changes in DM registration, regular subscription, and others
4. Make changes in your address for online shopping and so on
5. Restore a room to its original condition (Remove installed equipment, change back to its original voltage/ampere and so on)

*For lessees/ tenants who pay monthly rent along with water bill, it is no need to inform a water supplier of the cancellation. A local management will read a water meter on the move-out day.

*Lessees/ tenants must make changes in other registrations and/ or subscriptions by the time of the move out.

*No belongings, wastes, furniture, home appliances and such must be left behind in a room nor in a property. Particularly, a rented room must be returned to its original condition upon the move-out.

*Initially attached equipment and their manuals must NOT be taken off nor taken out.

*A circuit breaker must NOT be tripped when tenants move out. An anti-icing function stops as you shut off the electrical flow especially during winter. This likely causes water pipes to be frozen and damaged. In such case, the repair fee will be charged to a tenant.

Though an electric supplier may ask you to trip a circuit breaker as you move out, we request you NOT to trip a circuit breaker due to the suggested reason.

A registered name will be changed from a tenant's to ours after the final day of electric service.


Key Return
Apartment keys will be collected either way.

1. When a move out inspection is needed; all keys shall be collected by a local management staff on a move out inspection day.
2. When no move out inspection is needed;
a. An addressed envelope and a letter of acknowledgment will be sent by post as a lessee notifies us of a move out. We kindly ask you to respond both documents within a week after arrival. Please do not forget to send the yellow key with the letter.
b. Please leave remaining keys in a mailbox (except for the yellow key.)